INCAREMED Emergency Medical Bed
It is the first domestic emergency medical bed adopting semi-automatic lift mode in chassis.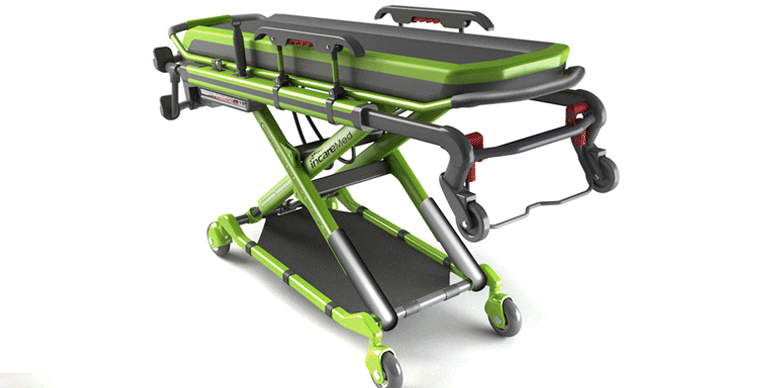 It is the first domestic emergency medical bed adopting semi-automatic lift mode in chassis. It can meet higher demands in many aspects including stability, convenient human-machine operation and reasonability.
By role play, the design team simulated the whole process from ambulance staff arriving to accident spot to rescuing the wounded in various emergencies. Through continuous simulation of solutions for various problems by using 1:1 large model again and again, the real demands and considerations of patients are deeply recognized by the team. Then the team analyzed the advantages and disadvantages of current products in the market and finally focused on the positioning of the design——how to realize semiautomatic chassis.
In order to realize semiautomatic chassis, the stability, reliability and reasonability of products in terms of structure are needed to be considered. By comparison of various patterns, finally the design of lift mechanism adopted triangle. The triangle design is stable, solid and has reasonable force to carrying capacity and lift. By adopting flat-shaped aluminum profile, the support frame has strengthened its intensity and reduced the weight of products and made production more reasonable. With the structure of semiautomatic lift and design of tubular profile, the support of force is dispersed to the greatest extent. Furthermore, xcellent color and human-machine design has also highlighted Incaremed's high-end, reliable, professional and humanized brand image.
After launching, Incaremed emergency medical bed has rapidly become the leader among domestic similar products. At present, it has been used in nearly 100 domestic grade three and first-class hospitals and sold to over 20 foreign countries.